Biography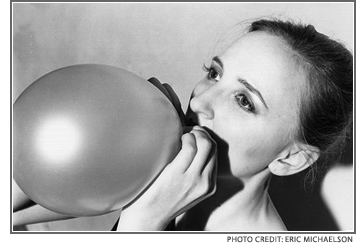 FOR THE MOST CURRENT INFORMATION ABOUT JUDY DUNAWAY CLICK HERE TO GO TO THE NEW WEBSITE.
Judy Dunaway is primarily known for her numerous works for latex balloons as sound producers, including sculptural sonic performances, sound installations, interactive pieces and acousmatic works. Since 1990 she has created over forty works for balloons as sound conduits and has also made this her main instrument for improvisation.
Judy Dunaway has presented her balloon works at many important venues, festivals, museums and galleries including the Academy of Media Arts Cologne (Cologne), Avant-Garde Schwaz Festival (Austria), Alternative Museum (NYC), Bang on a Can Festival (NYC), Everson Art Museum (Syracuse), Frau Musica Nova Festival (Cologne), Fylkingen (Stockholm), Galerie Rachel Haferkamp (Cologne), Guelph Jazz Festival (Canada), Le Lieu Unique (Nantes, France), Lincoln Center Out-of-Doors (NYC), Logos (Gent, Belgium), New Museum of Contemporary Art (NYC), Performance Space 122 (NYC), Podewil (Berlin), Roulette (NYC), CEAIT Festival (Los Angeles), Séance Ecoute (Paris), Seltsame Musik Festival (Krems, Austria), SoHo Arts Festival (NYC), STEIM (Amsterdam) and Zentrum fuer Kunst und Medientechnologie (Karlsruhe). She has performed as a balloon player in compositions by John Zorn and Roscoe Mitchell, and in improvisations and/or collaborations with the FLUX Quartet, performance artist Annie Sprinkle, video artist Zev Robinson, visual artists Nancy Davidson and Ken Butler, percussionists John Hollenbeck and Matt Moran, the Illuminati big band, DJ Singe, and numerous others. Her creations for balloons include both electronic and multi-media works and compositions that incorporate more traditional instrumentation such as chorus, piano, saxophone, string quartet and Japanese koto.
She has also been creating sound installations with latex balloons since 1999. Flying F*ck (2000), a sound installation using suspended vibrators and balloons to create low-frequency standing waves, was exhibited at Moltkerei Werkstatt (Cologne), Kunstlerhaus (Dortmund) and ZKM (Karlsruhe), and reviewed in Kunstforum International art journal. Her installation Manual Eardrums (2002), in which visitors trace sound patterns in a room by holding a balloon, has been presented at Diapason Gallery (NYC), Galerie Rachel Haferkamp (Cologne), Wesleyan University (Middletown, CT), CUBA (Muenster) and Ohrenhoch Sound Gallery (Berlin).
Her non-balloon work in transmission and telematic art dates back to her 1992 piece Duo for Radio Stations, simulcast on WFMU (New Jersey) and WKCR (New York), a half-hour long work that included 14 live musicians at the two stations. Her piece What You Cannot Hear, a live streamed work that used real-time signal processing and samples. was released on the CD accompanying Leonardo Music Journal No. 22 in November, 2012. She has also presented live streamed performances at Ohrenhoch Sound Gallery in Berlin (2013), Networked Music Festival UK (2012 and 2013), Deep Listening Dream Festival (2011) and over WGXC/free103point9 (2011). Other projects include the internet community audio-art project Sex Workers' Internet Radio Lounge/Library (SWIRL) (2006-2010) and The Phone Improv Show (August 2010) a month-long live streamed program featuring free improvisations called in via phone.
Her awards/grants/residencies include the New York State Music Fund. the Aaron Copland Fund Recording Grant, the American Composers Forum's Composers Commissioning Fund, ZKM, Harvestworks, EMS Elektronmusikstudion Stockholm, the National Endowment for the Arts performance fund and several Meet the Composer composer-participation grants. Her discography includes CDs on the CRI and Innova labels.
Judy Dunaway has a Ph.D. in Music Composition from State University of New York at Stony Brook, where she worked with analog electronic music composer Daria Semegen and multi-media artist Christa Erickson, and a M.A. in Experimental Music from Wesleyan University (Connecticut) where she studied with composer Alvin Lucier. She also holds a B.S. in Music Education from Hunter College (New York City). She has been a Visiting Lecturer and part-time faculty at Massachusetts College of Art and Design since 2005, where she teaches for both the Art History Department and the Studio for Interrelated Media. She has given lectures, academic presentations and workshops about her work with balloons at many colleges and universities, including Juilliard School of Music, Cornell University, Rennselaer Polytechnic Institute, Tufts University, Hochschule fuer Gestaltung Karlsruhe (Germany), Musik Akademie Basel (Switzerland) and Gothenberg University (Sweden).